The new Mazzer Mini A is here, and I have some thoughts! I will refrain from brand-loyal prejudice and be as fair and honest as possible. But of course, we're talking about Mazzer here and I think most of us already know how well deserved their place in the industry really is. In this review, I will go through the new design, grind speed, grind adjustment, quick word on the burr set, retention and share a few numbers on grind amount consistency and conclude this quick read with my final thoughts.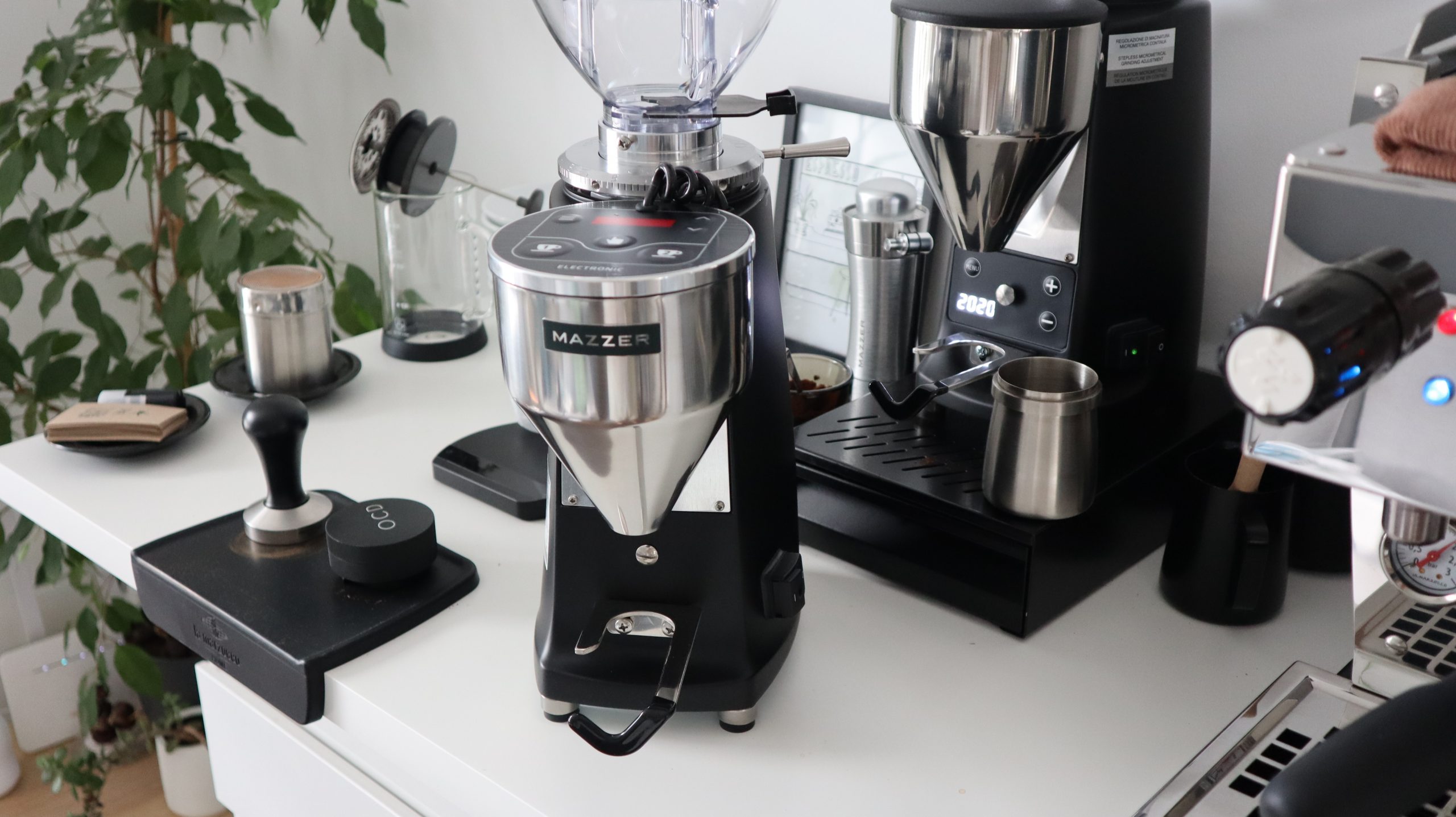 Disclaimer

I'm not affiliated/sponsored by Mazzer and they also didn't ask me to make content – I asked Mazzer to send me the grinder in order to help me make content. They aren't paying me, I'm not getting anything for the review and my content.
Design
Let's start with the new design – I really like it! It has changed notably while preserving the design language I really fancy about Mazzer grinders. Seeing the older B and the new A side by side, the difference is actually more pronounced than you'd think! Both new Mini A and Mini B have received a completely redesigned body with sleeker, sharper lines and modern appearance, newly designed adjustment collar (more on that further in the review) and of course the new funnel with face-lifted user interface lid for the Mini A to match the rest of Mazzer's new lineup.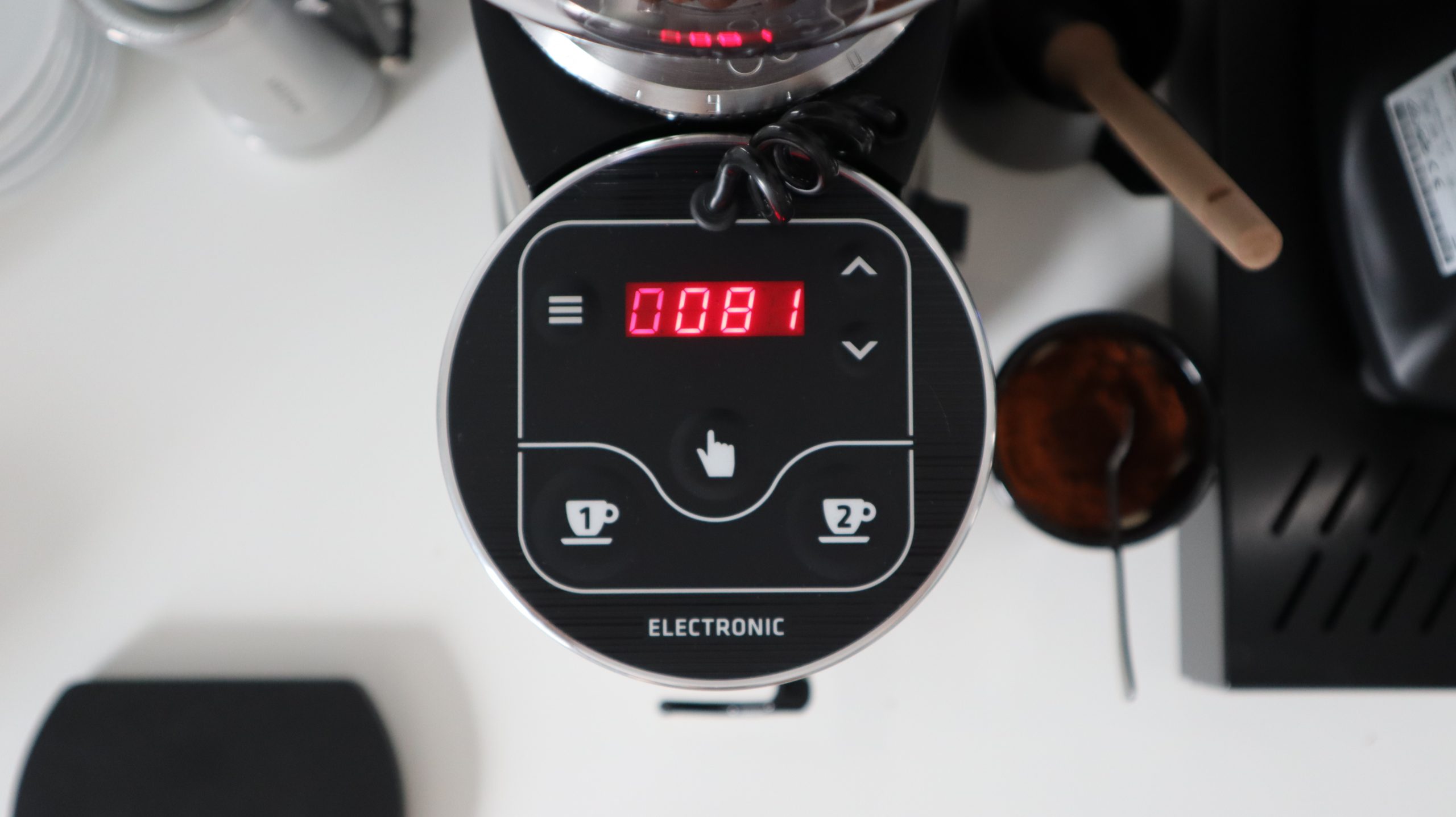 The lid for the hopper has a nice sealing gasket, feels sturdy and to be made of a high quality plastic. The new Mini A feels fresh, looks amazing on the bar and the timeless design is something that many grinder manufacturers still can't catch up with.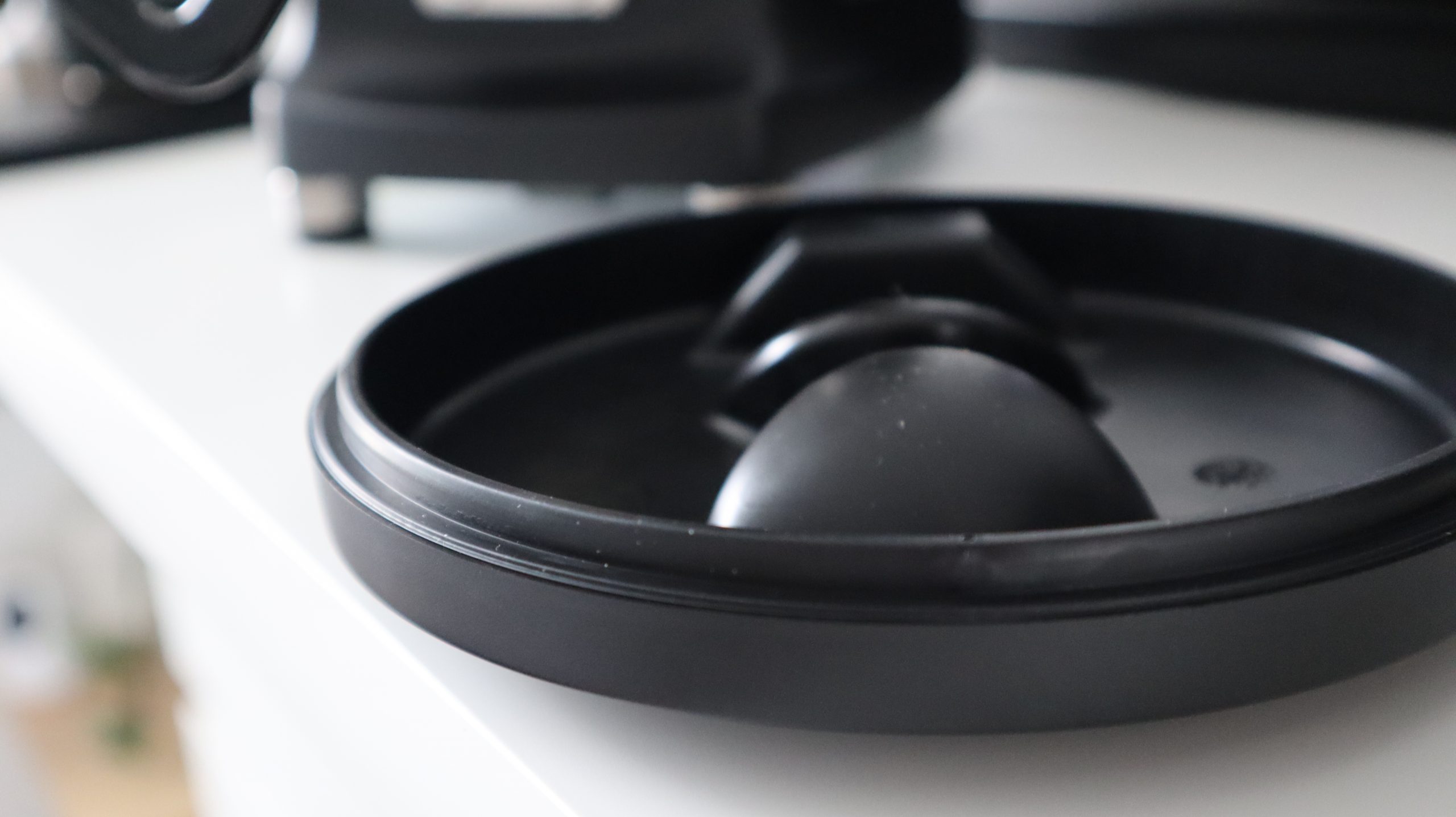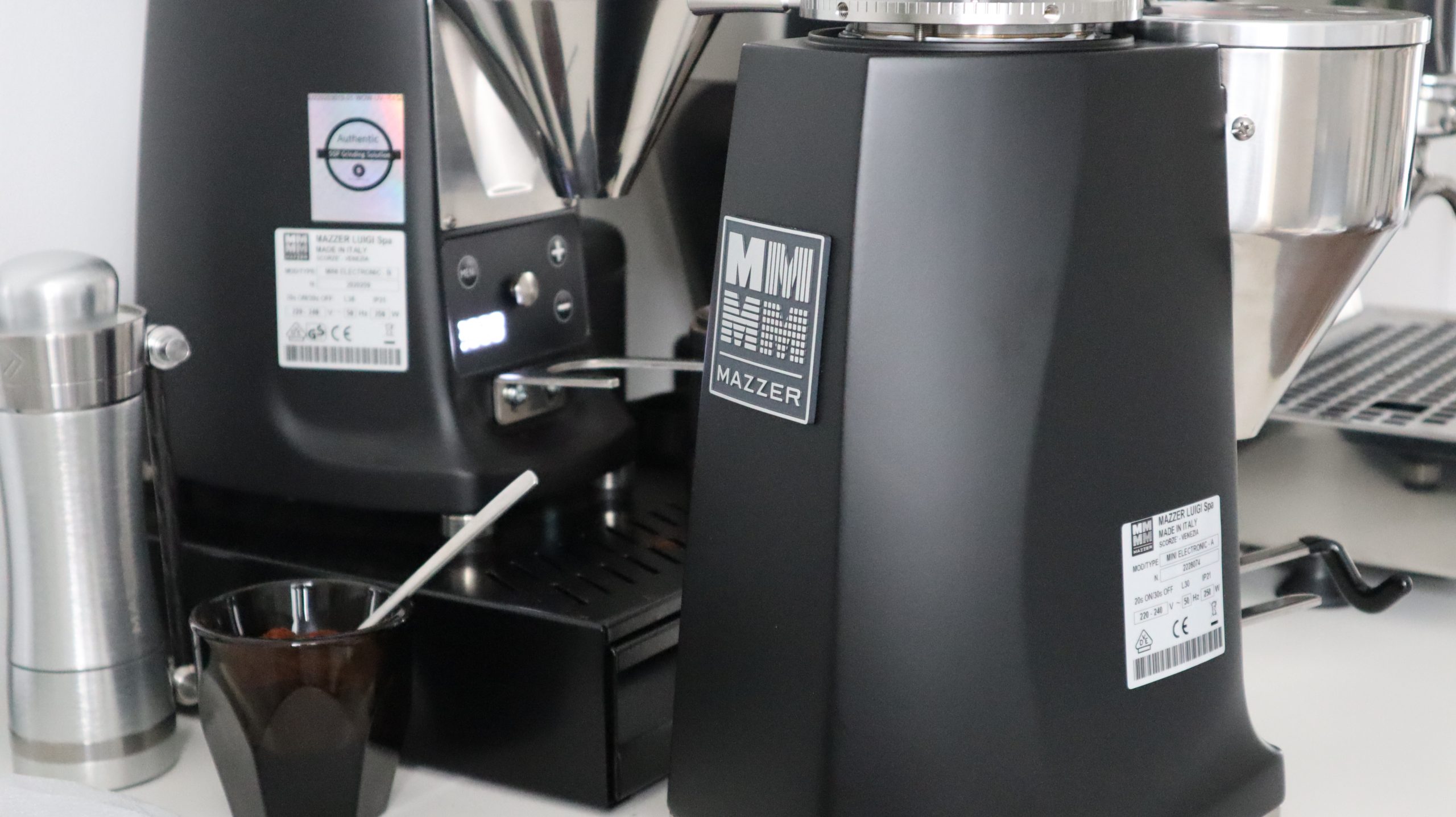 Grind Speed
I'm only going to elaborate further on the point I already made in my Mazzer Mini Electronic B review, which applies here as well. This is actually the third Mazzer Mini Electronic I've the opportunity to make coffee with and I never had to grind 18g for espresso longer than 12-13 seconds with stock burrs on either of these grinders. In this short video, I've set the timer to 13 seconds and intended to grind 18g for espresso on a fine setting resulting in your traditional a 25s 1:2 ratio. I'd have to grind really, really fine to even get on the 13 seconds for 18g on my Mini B with stock burrs – this is consistent with the new Mini A as well. Of course, grind speed will depend on the beans, but I've run kilos of various beans from super light to medium dark through my Mini B and never had to grind longer than 12-13 seconds with stock burrs, I expect the same to be true with this grinder. I'm willing to argue the point that this grinder is – for a home user – faster than it will ever need to be. It grinds faster than it takes me to take out and wipe the portafilter dry and to be frank, I'm pulling a few shots on a one group machine for me and my family/friends, not serving a line of people here. I don't need to grind faster than 11-12 seconds. Now, kindly open your mind to the possibility that shaving off another 2-3 seconds wouldn't make a difference to your daily workflow with this truly amazing grinder. 
Grind Adjustment
I'm such a fan of the Super Jolly V Pro adjustment ring, and this new collar is (almost) just like it! It doesn't have the adjustable numeric ring, but it looks so nice! The collar moves smoothly and changing the grind setting is easily repeatable. I'm not entirely sure if this is new, but the grinding of a dose can now be stopped by pressing the dose button a second time. I think I've read that this wasn't present on the older A models, and that you had to literally switch the grinder off to stop grinding. That's an improvement for sure!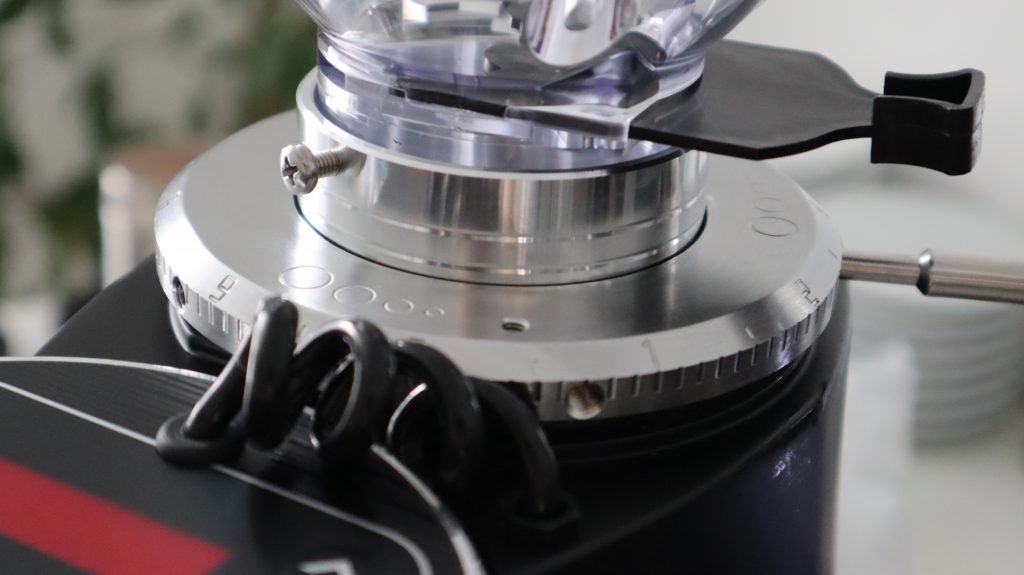 Retention and grind amount consistency
I will measure the total retention of this grinder after a few kilos of coffee, but in my opinion, total retention isn't really a reason to be concerned or a deciding factor here. After I ran two bags of coffee through the grinder, after gaps filled the exchange with this grinder stays at around 2-3g – which is the same as with my Mazzer Mini Electronic B. After a short purge, Mini A will deliver doses with a very good consistency. I've ground 5 doses set to 13 seconds, here are the results:
| | |
| --- | --- |
| Grind Time | Grind Amount |
| 13s | 18.1g |
| 13s | 18g |
| 13s | 17.9g |
| 13s | 18.2g |
| 13s | 18.1g |
| Average: | 18.06g |
Burrs and flavour profile
The burrs are 64mm Mazzer 189D burrs with the exact same flavor profile as described in my Mazzer Mini Electronic B review. Cups with these burrs are rich, thick bodied with a really nice mouthfeel. This is the traditional espresso burr style with an increased amount of fines to create that almost conical sort of cup. This isn't a high clarity focused or high uniformity burr set, but don't misunderstand – these burrs are fantastic. In my opinion, Mazzer manufactures the best commercially available burrs on the market. Should you get picky and crave something different once these burrs are fully seasoned, get a different burr set. Be assured that Mini's 250W motor will handle different burr set with ease and without stalling. However, for most people the stock 189D burrs is more than you can ask for.
Differences A/B
The first notable difference is obviously the new design. What I noticed as well, is that the cone seems to be made out of a different material. It has a different finish, feels smoother and has a slightly different shade to it. The lid on the hopper, as mentioned earlier, has a sealing ring to perhaps reduce exposure to the outside environment. The user interface on the A is something I find you have to see and use in person to appreciate more. It looks like a thin plastic lid with buttons when you see it on pictures, but the lid is actually thick, heavy and feels really sturdy. I enjoy using the interface on the Mini A, however I still prefer the interface on my B. It's a subjective preference and it really doesn't mean that one is better than the other. Apart from these differences, both grinders will produce the exact same results with the same stock Mazzer burrs.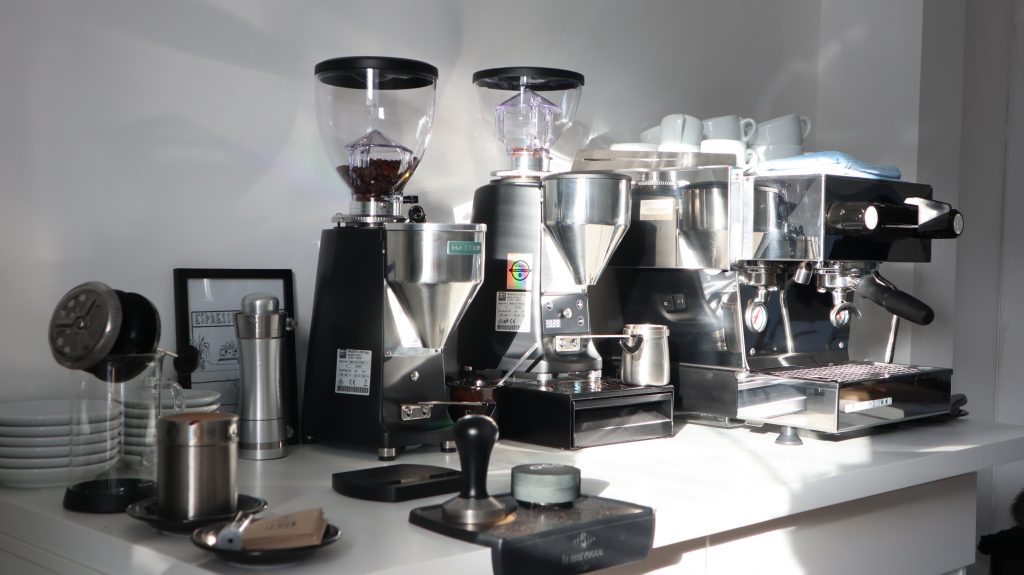 Conclusion
To conclude this, Mazzer has yet again proved to be the only go-to grinder manufacturer I can recommend with clean conscience. I'm more inclined to spending money on products that will last a very long time, are of a high quality and made by a reputable manufacturer. My Mazzer Mini Electronic B and my Mazzer Omega hand grinder are products that will last for generations, and I'm really glad Mazzer hasn't stopped innovating and improving their line-up and has delivered a new, fresh update to this iconic grinder. I've also posted an unboxing video on my YouTube channel and as always, I'll be posting workflows with the grinder in the future. I will also update this review should I have any new thoughts or findings to share. So stick around!
This is, in fact, my very first collaboration with a manufacturer and I'm proud to say it's Mazzer. I bought my other two Mazzers and absolutely love them, I don't need to be paid or bribed to tell you that Mazzer grinders are proven by the industry to be reliable, long lasting and hight quality grinders. I must say they took a surprising step and did an astonishing job with the refresh of the Mini A, I'm pretty sure we can expect great things from Mazzer in the future. I couldn't be more proud for being able to try it out and share my thoughts. So be nice!